UIAA Mission:
To conduct a great family friendly, religious, patriotic, and civic event in Buffalo that honors Saint Patrick and displays the Irish contributions to our community and country.

2018 Saint Patrick's Day Parade
Sunday, March 18, 2018
Delaware Avenue @ 2 PM


The 2017 St. Patrick's Day Parade Grand Marshal - Jeff Wilson

Jeff first became involved with the UIAA, when volunteered by his friend Garry Johnson to work along the route for the Saint Patrick's Day Parade. After many years of volunteering he was elected to the Executive committee of the United Irish American Association. He continues this work in areas from fund raising to helping with setup and take down of reviewing stands and barricades after parade day.

As Grand Marshal he has selected his wife of 30 years Lynn (Bilz) Wilson and his 3 children Kyle, Courtney, Lauren along with close friends from the UIAA, Garry Johnson and Mark O'Neill to be his Deputy Marshals.

Jeff's sister Carole Dundon and husband Dan, from Gettysburg, PA and Jeff's brother William and wife Nancy from Bluff City, TN are leading the group of family and friends in the Parade. His brother Robert and wife Sharon of Clarksville, TN have sent their good wishes and are excited for this once in a lifetime honor for Jeff.



The 2017 Parade is dedicated to:

The memory of Thomas P. Johnson. He founded Thomas Johnson Inc. a commercial masonry Company, still going strong today. Tom was the beloved husband of Linda (Wilson) and the late Carmel (Byrne) Johnson. Born in Crossmore, Co. Clare, he moved to Buffalo in 1957 after working in England and Toronto, Canada. Tom was a long time active member of the UIAA; he was Grand Marshal of the 1976 Parade. Mr. Johnson, a founding father of the Buffalo Irish Center, guided its conversion from a YMCA. Chairman of the GAAA from 1971-1973 and in 1978, his effort and respect for Irish Heritage helped form the Buffalo Irish Center we know today. Mr. Johnson was also a member of the Knights of Equity, St. Patrick's Irish American Club, and Knights of Columbus Baker Council. In the 1960s he enjoyed playing Irish football on Buffalo's GAA team.

The 2017 Parade Mass:
Mass w
ill be celebrated by Bishop Richard J. Malone at Saint Joseph's Cathedral on Sunday, March 19th at 10:30AM before the line up for the Saint Patrick's Day Parade.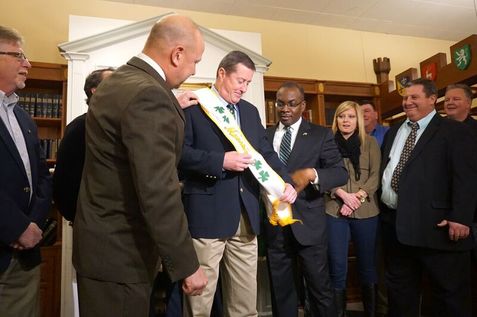 Mayor Byron Brown and Councilman Chris Scanlon assisted the UIAA with announcing and presenting the Grand Marshal Sash to the 2017 St. Patrick's Day Parade Grand Marshal Jeff Wilson. Mayor Brown commented to the media that "...he and the city are excited to host the historical St. Patrick' Day Parade on March 19th on Delaware Ave...". Mayor Brown invited city residents and all the resident of Western NY to come the city to witness the historic, traditional, family friendly event.


International Recognition:

The Parade receives recognition and accolades and in a letter to Mayor Brown and in an article in the magazine "Ireland of the Welcomes" published in Dublin, Ireland.
(read it).
Parade Information
:
Please contact us through the website
"contact us"
or call Brigid Knott @ 716-875-0282
Parade Day Vendors:
Street vendors are required to have a permit. All inquiries related to permits should be directed to Tom Young @ 716-913-3527.
We are:
A volunteer organization with no paid employees. The Parade expenses are totally subsidized by donations from area residents, local businesses and political leaders