2016 Saint Patrick's Day Parade
Sunday, March 20, 2016
Delaware Avenue @ 2 PM











The 2015 St. Patrick's Day Parade Grand Marshal - Denice Morrison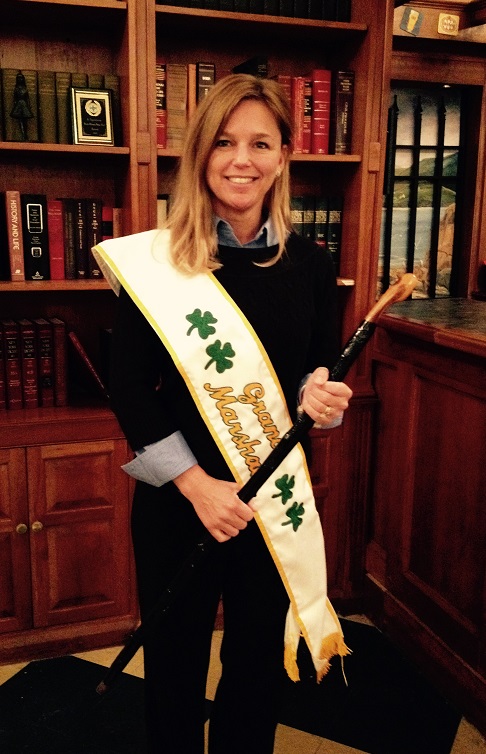 The United Irish American Association of Erie County (UIAA) celebrated its 75th anniversary. Denice Morrison of Darien Center, NY was the Grand Marshal of the 2015 Diamond Jubilee Saint Patrick's Day Parade. For this once in a lifetime honor Denice, chose her husband John Morrison, Chairman of the UIAA Executive Committee, her dear sister Shawn Baumgarden and her wonderful stepchildren, Aryn and Jason Morrison to be her deputy marshals. Her brother Jason Lorka, his wife Julianna and daughter Ellee traveled to Buffalo from their home in Arizona and lead a large contingent of family and friends honoring Saint Patrick and supporting Denice in the Saint Patrick's Day Parade.

Before being elected to serve on the Executive Committee of UIAA, she volunteered on the work of the Saint Patrick's Day Parade for many years. Denice currently continues to work as a division marshal and is directly involved in the fund raising efforts of the UIAA. The UIAA has no paid employees, all are volunteers and raising money to fund the music in the Parade is a major effort.

Mrs. Morrison grew up in Hamburg, graduated from Frontier High School and attended Erie Community College. She is the daughter of Kathleen (McDermott) and Thomas Lorka, her father is retired from Gibralter Steel. Denice is a member of Saint John Vianney parish. Active in community activities, Denice enjoyed her years as a Buffalo Jill. She and her husband John recently moved from Orchard Park to their new home in Darien Center. Denice has been employed with M&T Bank for 20 years. She is currently Vice President in the Customer Asset Management Department. Her husband John Morrison served as Grand Marshal for the 2007 Saint Patrick's Day Parade. He is currently President and CEO of Financial Trust Federal Credit Union.

The 2015 Parade is dedicated to:

The memory of Scott Burchard. Scott was a project engineer in the Buffalo area with construction companies including Ciminelli Construction. Mr. Burchard loved the Saint Patrick's Day Parade and all the formal dress that went along with being a division marshal. For the past 15 years he donned his black top hat, coat and blackthorn stick and worked on the Parade lineup and crowd control for the groups participating. He took pride in the formal proper attire and counted Parade Day as one of his favorites of the year. Scott and his often dry sense of humor are missed by his family and friends on the Saint Patrick's Day Parade Committee.

Scholarship Opportunity:
The UIAA has established a 75th Anniversary Essay Contest for children in grades 4-8 in the Buffalo Catholic Dioceses. The one page essay is titled "What the Parade Means to Me". Three cash prizes will be awarded for 1st, 2nd and 3rd place. Please submit your Essay by March 1, 2015 to UIAA, 245 Abbott Road, Buffalo, NY 14220.

The 2015 Parade Mass:

Mass w
ill be celebrated by Bishop Richard J. Malone at Saint Joseph's Cathedral on Sunday, March 15th at 10:30AM before the line up for the Saint Patrick's Day Parade.
International Recognition:

The Parade receives recognition and accolades and in a letter to Mayor Brown and in an article in the magazine "Ireland of the Welcomes" published in Dublin, Ireland.
(read it).
Parade Information
:
Please contact us through the website
"contact us"
or call Brigid Knott @ 716-875-0282
Parade Day Vendors:
Street vendors are required to have a permit. All inquiries related to permits should be directed to Tom Young @ 716-913-3527.
Party:
The Caberet Night (Valentine's Party)
February 13, 2015 at the Irish Center
from 7:30 to 11 PM
Music by "Heard of Buffalo"
Beer, Wine, Soda - Bring your own snacks!!!
donation $20.
For tickets call 875-0282 or 574-0367
We are:
A volunteer organization with no paid employees. The Parade expenses are totally subsidized by donations from area residents, local businesses and political leaders
UIAA Mission:
To conduct a great religious, patriotic, and civic event in Buffalo that honors Saint Patrick and displays the Irish contributions to our community and country.